Erfahrungsbericht: BEST Exchange Summer School 2022 – Education for Sustainable Development
On the first day of our journey at the Summer School in Göttingen, we had a holistic view of Education for Sustainable Development in our mind with a short trip through the history of (E)SD, SDGs, principles of the 2030 Agenda for sustainable development, Planetary Boundaries, and the concept of the "wedding cake model" with a general idea for the classroom. We frequently talk about 'Sustainable Development' in our daily life. How can you make a difference as a teacher in the classroom? From the introduction lecture, we gained a broader understanding of what we can do to make a difference in response to the urgent and dramatic challenges we face on this planet.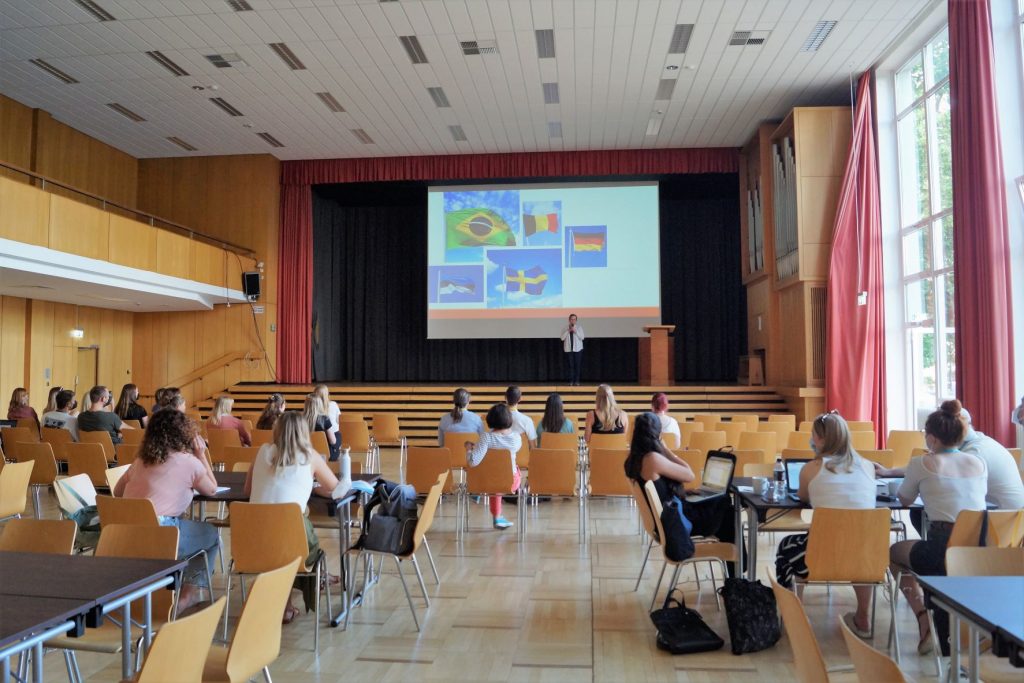 In the afternoon, our first workshop focused on specific activities that can be used for teaching. Many practical activities were intriguing to me. Since we already had a full head from the lecture in the morning, it was a nice feeling that everyone could get active and actually do some teaching activities, which made us engage in the topic naturally and collaboratively.
In the morning of the next day, we had three lectures referring to ESD in specific subject areas. Obviously, ESD is a truly interdisciplinary project. If teachers are aware of ESD, they can integrate the content with different teaching lessons. Because I am an English teacher, I was especially interested in ESD in foreign language teaching.
One of my favorite workshops focuses on agricultural education and forest education. It is an excellent way to let students experience real agricultural work on the farm. Most of the students now are born and live in cities; even some students from the countryside still don't have much knowledge about these topics. I think it is a meaningful and exciting experience for students to know the process of how their food travels from the field to their plate. Throughout the Summer School,many vivid examples such as a bee family day and herb festival were given. Some notes I took on how to achieve the goals of this extracurricular learning on ESD:
Arouse curiosity and interest in food through experience with all senses
Illustrate the origin and processing of food and their importance for a healthy diet
Improve the appreciation of regional food
Help develop responsible natural and environmental behavior of future consumers
In our international workgroup, we designed an ESD Project named 'Waste Management in Cities'. During the teamwork, we wanted to simulate the actual situation in secondary school in all participating countries and tried to understand their prior knowledge. It was a little challenging to find a consensus with all the students' opinions at the first stage in selecting topics for different age groups in all participating counties. It is essential to know your target students before designing your project. In my reflection on our project, I knew why we were struggling at the first stage of designing the project. It is hard to balance the program with local courses in their regional curricula. How much freedom and support can we expect when working at a school, and are our ideas even realistic? Further, everyone has a wide range of values and preferences across varied cultural backgrounds. But with the facilitator's help, we decided on the Sub-Goal 11 Target 6: Reduce the environmental impact of cities. We considered it a suitable topic for our target learners, age 13-14, with B1 language level, who would also work partially in their mother tongue. The project would be implemented three days before the summer holidays. Students will receive one issue that plays an essential part in a sustainable city to research, and will later discuss their issues in expert groups and cross-over groups.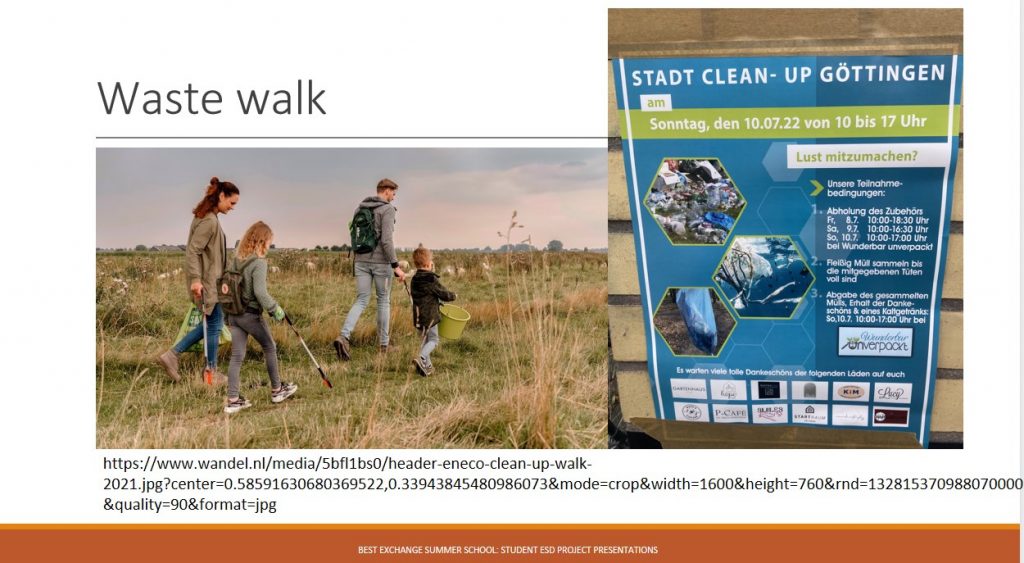 The anticipated learning outcomes of this project are for our students to achieve different learning objectives based on specific subjects in the context of waste management in cities. They will develop a range of competencies that should be fostered in different subjects, for example English as a Second Language.
It was a wonderful experience for me to take part in the project and learning with international students with different educational prospects. I have learned much about ESD from the experts and fellow student teachers from Sweden, Germany, Estonia and Belgium. I have learned and experienced a lot throughout the program and realized global challenges we are facing now. Teachers can have a positive influence through ESD and create a better world.