Europe is facing seven social challenges that need fresh ideas – and here you come into play! On the NICE programme 2021, you'll work through virtual toolkits in entrepreneurship and intercultural communication to solve a global challenge in a team from around Europe. Eventually, your team can showcase your innovative solution at the virtual summer school. Joining NICE, you'll gain hands-on experience, in-demand skills and academic credit!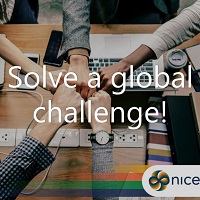 This multi-university virtual programme running March to July 2021 is offered to you by the Intercultural LearningLab, University of Göttingen.
Find out more and apply: www.nice-eu.org/apply
Application deadline is March 8, 2021.
Contact: interkulturell@uni-goettingen.de