Neuorientierung? Fachwechsel? ⇒ Monday-Check! (ein Angebot der Zentralen Studienberatung)
Die Bewerbungsphase steht bevor und Sie sind sich unsicher, ob Ihr Studium das Richtige ist? Dann kommen Sie zum Monday-Check: Vom 27. Mai bis 24. Juni 2019 gibt es montags zahlreiche Angebote wie offene Sprechstunden, individuelle Beratung und Workshops zur Neuorientierung!
Der Monday-Check ist ein Angebot der Zentralen Studienberatung für…
…alle Studierenden der Universität Göttingen, die überlegen ihr Studienfach zu wechseln oder ob sie ihrem Fach noch eine zweite Chance geben.
…alle Studierenden anderer Hochschulen, die überlegen nach Göttingen zu wechseln, aber noch nach einem passenden Fach suchen.
…alle, die ein Studium unterbrochen haben und überlegen, neu zu starten.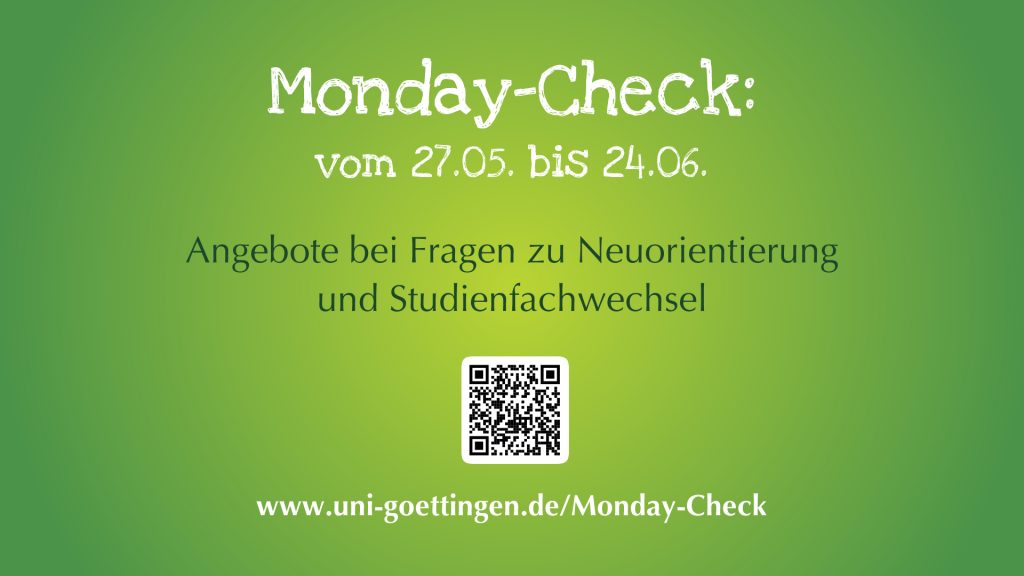 Reorientation? Change of subject? – Monday Check! (offered by the Central Student Advisory Service)
The application phase is about to begin, and you are not sure whether your degree programme is the right one for you? Then come to Monday Check! From 27th May to 24th June 2019 every Monday various reorientation programmes like open consultation hours, personal counselling and workshops are offered!
The Monday Check is a programme organised by the Central Student Advisory Service for…
…all students of Göttingen University considering whether to change their subject or give their present subject a second chance.
…all students from other universities who are considering a move to Göttingen, but are still looking for a suitable subject.
…anyone who has interrupted a course of studies and is now thinking about making a new start.